Today we've launched a brand new feature we're calling Custom Lists which allows you to create customised lists of addresses, address ranges, autonomous system numbers (ASN's) and email domains for use in Blacklists, Whitelists or Custom Rules.

This new feature replaces our previous Whitelist and Blacklist tabs within the Dashboard with a new unified Custom Lists tab. And as you can see above it looks similar to our current Custom Rules tab but once expanded these lists offer an entirely different set of controls as shown below.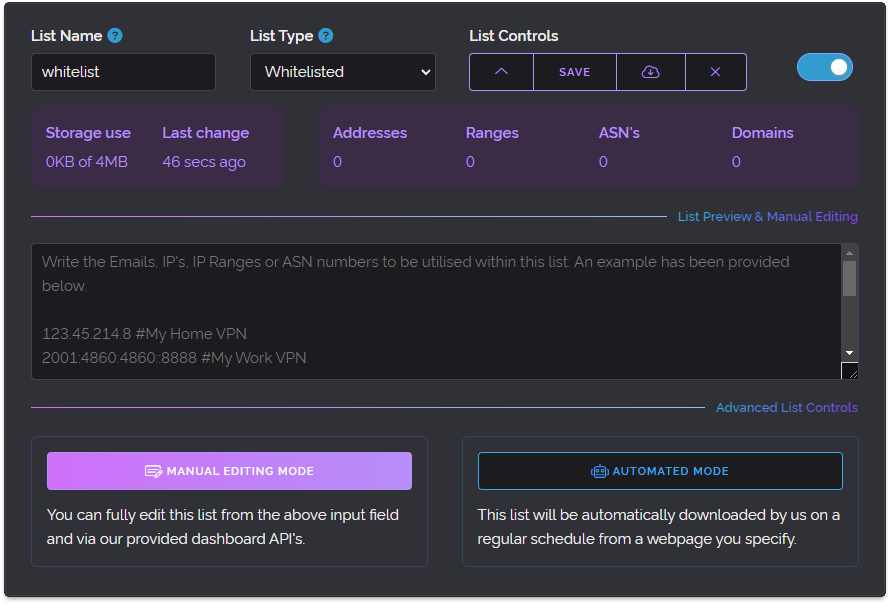 In the above screenshot we're showing the default Manual Editing Mode which lets you add information to this list just as you could with the previous Whitelist and Blacklist features. You can also manipulate what is contained within this list by the Dashboard API. The previous API still works but we've also made a new one which offers control of any kind of list, not just White and Blacklists.
A brand new feature however is the ability to have your lists automatically downloaded from your own website on a regular schedule. When selecting the Automated Mode the list changes in appearance and allows you to specify a URL and the frequency at which you would like your list downloaded. Below is a screenshot of that interface.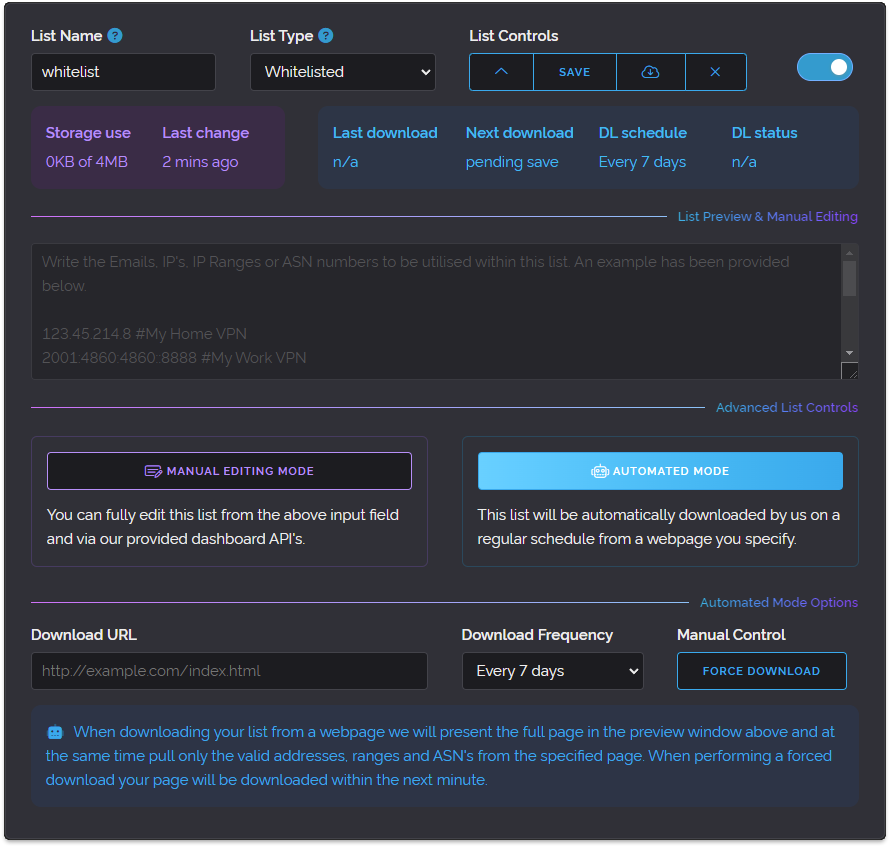 In addition to still offering the whitelist and blacklist functionality as before you can now also create named lists for any eventuality which can be leveraged solely by your Custom Rules allowing for additional levels of customisability.
We've also added toggle buttons to each list allowing you to easily turn them off and on without needing to erase their contents and as we've followed our Custom Rules design guidelines you can now move the lists around and easily export them for local backup.
To integrate this feature with Custom Rules we came up with a clever solution, when entering custom values into a rule condition you'll now be suggested your Custom Lists by name which you can then click to add into the box and those lists will then be consulted by that rule when its conditions call for it.
The last thing to discuss is how much does it cost, how many lists can you create and what is this 4MB size limit per list?
Well to answer the first question, this feature does not cost anything extra. You can create as many lists as you like but you may only enable a certain number of lists dependant on your plan tier. Free users can enable 3 lists while paid plans can enable between 5 and 60 lists with custom plans able to go beyond that 60 limit.
As for the 4MB size limit we've found in testing it is possible to add 300,000 addresses to a list without comments and still fit under 4MB. With detailed comments this falls to between 100,000-150,000 entries. But this 4MB limit is per-list so if you fill one up you can simply create another.
We hope you all will really like this new feature. It has required a lot of extensive work both in the Dashboard and our API, as such we have issued a new API version dated the 25th of May 2022.
If you want to use the new lists feature you will have to upgrade to this API version as the previous lists have been copied over to the new format, until you upgrade your API calls will still use your old lists but you won't be able to alter them until you upgrade.
Thanks for reading and have a wonderful week.