This is a feature we've had customers ask for and one customer in particular (you know who you are!) has been very vocal about wanting it. Today we're happy to provide attack data on our threats pages. Below is a screenshot showing what it looks like.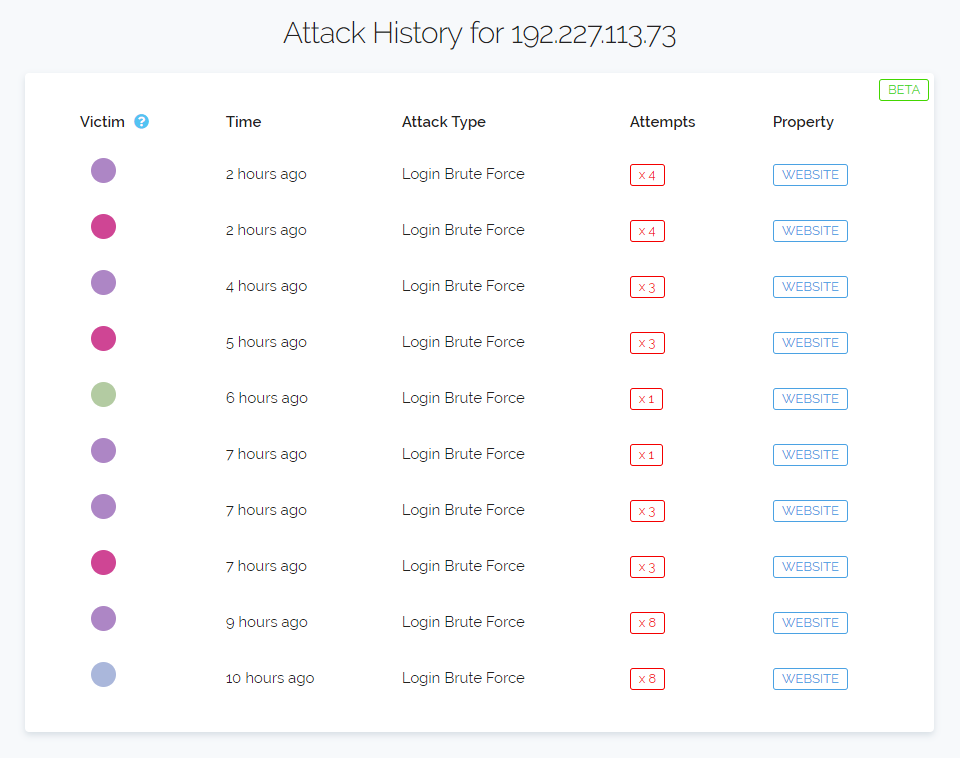 On the far left the colour dots represent the unique properties we're monitoring that saw attack traffic from the shown IP Address. The dots are not random but generated from the unique identifier we place on each individual property. This means you can use them to discern if an IP is just attacking one thing or many different things across the web.
On the far right we're listing the kind of property that is being attacked. This may say SSH, FTP, Game or in the screenshot above, Website.
We've also grouped attacks together so we can display more unique attacks. For example if an IP is trying to brute force a login page on a website and tries hundreds of times within a short time frame those attempts will all be shown as a single entry.
This for us is a beginning point. You'll note in the top right it says BETA and that's because this is a new feature that we're still actively working on. We intend to add integration with this attack log to your dashboard's positive detection log.
Right now it doesn't display all the data we have internally. Instead we've made profiles for specific types of attacks (Vulnerability Scanning, Brute Forcing, Automated Registrations, Port Scans and so on) and we will be expanding the profiles to support more kinds of malicious traffic as time goes on. Our intention with releasing this feature is to make an attack log that is actually useful and legible that doesn't throw needless information in your face.
In the near future we will leverage this data directly into our v2 API endpoint providing you with more data about an IP Address that you can use to make better decisions on whether to block an IP Address from accessing your property. So keep an eye on our blog for future updates.
Thanks for reading and we hope everyone is having a great weekend.