Today we have increased the prices of two business plans and all our enterprise plans. Before we get into the new pricing it's important to make clear these prices only apply to newly started plans and plan alterations. This means they do not apply to you if you're already subscribed to an affected plan, you will continue to pay the previous lower price until you cancel your subscription or upgrade/downgrade your subscription.
So let's first show the old and new prices and then we'll explain why we've done this.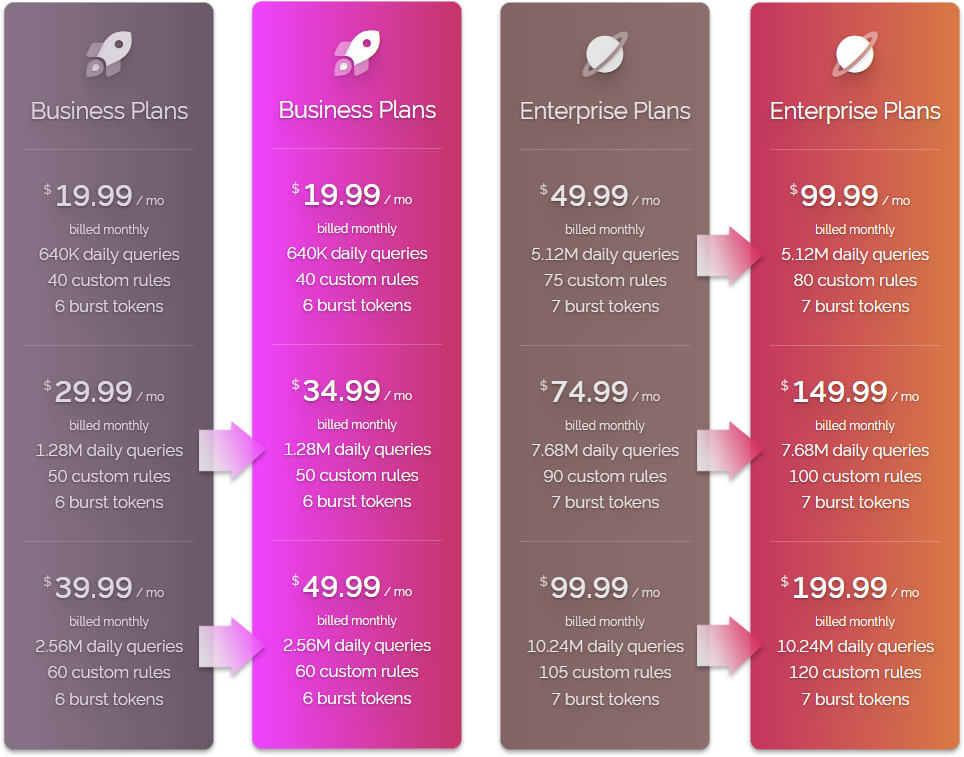 As you can see our Enterprise plans have doubled in price and we've also increased the pricing on our two highest Business plans by $5 and $10 per month. There are a few reasons we've made these changes which we'll now go over.
Firstly we're still much more affordable than our competition even after the pricing changes. In-fact our highest priced enterprise plan is still lower than our competitors lowest business plans while offering hundreds of thousands more queries per day and millions more queries per month. To put it simply, we were priced too low compared to the market.
Secondly by charging our largest customers more when they are the ones most likely to be in a position to afford it we can upgrade our hardware and expand our infrastructure to allow for more customers in the future. These large customers also create the biggest load on the service which leads into our next point.
Thirdly we wanted to lock our per-query price point. Once you reach 2.56 Million daily queries it doesn't make sense to receive a discount for using even more resources. At that point you need what you need and having a slightly lower price per query isn't a viable upsell proposition and if you are making such a large purchase of daily queries we've found you most likely will use most of your allowance which means more incurred cost for us.
So you may notice the $49.99, $99.99, $149.99 and $199.99 price points all correspond to the same cost per query. Meaning you don't receive a lowered cost per query for switching between these plans you simply trade a linear amount of queries, e.g. 2x more money for 2x more queries. This makes these larger plans more sustainable and helps us pay for the infrastructure commensurate to the burden these plans put on our service.
Like we mentioned at the start these prices only come into play for people starting a new plan or changing plans. We've always done it this way, the price you pay at the moment you subscribe will always be the same when it comes time to renew. If you're on a pre-paid plan for instance paying by PayPal we will of course honour the pricing you paid for your most recent payment when it comes time to renew.
We're also prepared to change your plan to one of the ones listed above for you manually until February 25th 2022 meaning you can upgrade to one of our plans that have changed price and only pay the previous lower prices and not the new prices if you're currently subscribed to a plan and contact our support before Feb 25th 2022.
In addition to the price changes we've also increased the amount of custom rules the enterprise plans can have enabled at one time to be more in line with our plan-to-plan increases in custom rule allowances, these are also displayed in the above screenshot.
We know when it comes to price increases it's always disappointing but we think we've reached a fair balance where those who use the most are covering the lions share of their costs to us and the increases don't apply to anyone currently subscribed to the service who have helped to build our service into what it is today through their patronage.
Thank you for reading and we hope you have a wonderful week.