As the commercial VPN market reaches maturity and the majority of VPN providers have a well-understood and traceable infrastructure we're starting to see novel approaches to building and maintaining VPN server fleets that thwart traditional detection methods.
One of these approaches is known as a decentralized VPN or dVPN for short. These are where a VPN company doesn't own and operate the VPN servers they sell access to and instead, they act as a broker between consumers seeking to use a VPN and "node operators" who make available their internet connections for rent.
For the vast majority of these dVPN services their decentralized infrastructure can still be discovered and added to our database like any other VPN service but some of them have made it more difficult. One such service we're focusing on today is MysteriumVPN which has a complex broker system utilising tokenized addresses to mask node operators.
To be more specific, in MysteriumVPN's case, you cannot glean the IP addresses of their VPN nodes until you pay some cryptocurrency called Myst to one of Mysterium's brokers who then connects you to a single node operator. Essentially this means you have to pay every individual node operator a small amount of cryptocurrency to be given their node's IP address by the Mysterium broker.
This unique approach has meant that for some time now Mysterium nodes have gone undetected and their abuse on the internet has reached critical levels. Everything from bypassing streaming site geoblocking to scraping website content and performing fraudulent transactions with stolen payment information has been facilitated by these nodes.
Because of that, we've taken a special interest in dVPN's and throughout July we've been developing new tools to better handle them. That is where today comes in where we wanted to share our work on dVPNs and specifically share with you about Mysterium due to it being the largest in the space.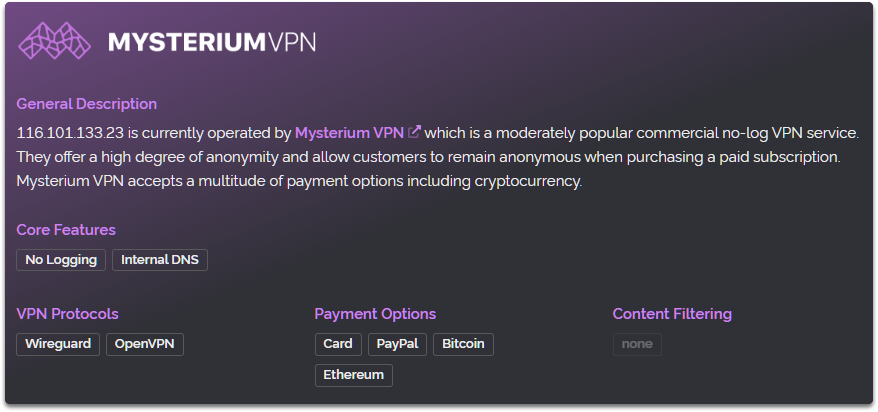 Above is what the new Mysterium operator card looks like, you'll find addresses from this VPN service presented via our API with a heightened risk score beginning at 73%. This elevated risk score reflects the danger we perceive these addresses as posing because not only is Mysterium a fully anonymous service but due to the difficulty in discovering the addresses, the lack of detection of them by services like our own and most of the addresses being hosted from residential address ranges it has become a magnet for criminals.
At present, we're indexing a few thousand nodes per day and expect to have 95% of the nodes offered by the top 10 dVPN providers detected by the end of this month. We would also like to take this opportunity to thank customers over the previous several months who provided IP addresses that they were certain belonged to proxy or VPN networks, we were able to match many of these to dVPN operators and thus expand our detection capability.
Thanks for reading and have a wonderful weekend!